Gloria Abbott Bardwell
Judith Chapman as Gloria Abbott Bardwell
The Young and the Restless
The Bold and the Beautiful
Portrayed by
Judith Chapman
Current status
Former, Guest
Duration
2014
First appearance
November 20, 2014
Last appearance
November 20, 2014
Profile
Family
Abbott
Bardwell
Fisher

Fullname
Gloria Abbott Bardwell
Nickname(s)
Gloworm (by River)
Honeybunny (by Jeffrey)
Gender
Female
Born
February 26,1941
Age
72
Occupation
Former waitress
Former Christmas tree seller
Real estate agent
Residence
Genoa City, Wisconsin
Gloria Abbott Bardwell is a character on The Young and the Restless who made a crossover appearance on The Bold and the Beautiful in 2014. She is portrayed by Judith Chapman.
Storylines
Edit
Gloria crossed over to B&B when she attended a Forrester fashion show in 2014. She befriended Pamela Douglas when Pam kept pushing her to try her lemon bars and after refusing several times, tried one and liked it.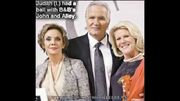 Ad blocker interference detected!
Wikia is a free-to-use site that makes money from advertising. We have a modified experience for viewers using ad blockers

Wikia is not accessible if you've made further modifications. Remove the custom ad blocker rule(s) and the page will load as expected.