The Logan family is a family on the CBS Daytime soap opera, The Bold and the Beautiful.
Descendants
Edit
Mr. Logan + Grandma Helen Logan=
Stephen Logan
Beth Henderson Logan + Stephen Logan=
Storm, Brooke, Donna, and Katie Logan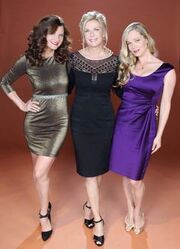 Brooke + Eric=
Rick and Bridget Forrester
Brooke + Deacon Sharpe=
Hope Logan
Brooke + Ridge Forrester=
R.J. Forrester (Ridge, Jr.)
Brooke + Nick Marone=
Jack Marone
Donna + Justin Barber=
Marcus Barber Forrester
Marcus Barber Forrester + Amber Moore=
Rosie Forrester
Bridget Forrester + Owen Knight=
Logan Knight
Katie + Bill Spencer, Jr.=
Will Spencer
Brooke + Bill Spencer Jr=
Unnamed deceased child (miscarried)
First Generation
Edit
Mr. Logan (deceased)
Helen Logan (deceased)
(Lesley Woods, 1987-1989, 2001)
Second Generation
Edit
Stephen Logan - Patriarch of the Logan family. Ex-husband to Beth Henderson Logan. Father to Storm Logan (deceased), Brooke Logan, Donna Logan and Katie Logan. Has a rivalry with Stephanie Forrester due to the way that she has treated his children, Brooke and Donna in particular. He was dating Stephanie's sister Pam Douglas, much to Stephanie's horror & dismay, it was just revenge as for how his wife had died. His daughters had learned about his relationship & were upset about it as well. He soon moved to Paris, and is occasionally mentioned.
Third Generation
Edit
(Ethan Wayne, 1987–1989, 1994, 1997–1998, 2000-2001, 2003; Brian Patrick Clarke, 1990-1991; William deVry, 2006–2008)
Eldest child and only son of Stephen and Beth Logan. Elder brother to Brooke, Donna, and Katie. Was very protective of his younger sisters and had to act as a father figure since their father Stephen was not there very often. Storm was a lawyer and has defended many people on the show. He recently shot Stephanie Forrester after the way she had treated Donna and tried to frame his father Stephen for the crime. This showed that Storm still had unresolved issues with his father. He recently shot his sister Katie Logan accidentally, and when she needed a heart transplant, he took his own life and gave his sister his heart.
(Katherine Kelly Lang, 1987–present; Catherine Hickland, 1987; Sandra Ferguson, 1997)
Eldest daughter of Stephen Logan and Beth Logan, the younger sister of Storm Logan and the older sister of Donna Logan and Katie Logan. She is currently single and works at Forrester Creations.
(Carrie Mitchum, 1987-1991,1992-1994, 1996-1998, 2000, 2001, 2004; Mary Sheldon, 1991; Jennifer Gareis, 2006-)
Returned to LA in 2006, and started a relationship with ex-brother-in-law Ridge Forrester. Formerly engaged to Thorne Forrester but the wedding was cancelled when it was revealed Donna was using Thorne to get back at Stephanie.
(Nancy Sloan, 1987–1989, 1991–2004; Heather Tom, 2007-) The youngest of the Logan children, she was perceived to be an ugly duckling. She had a crush on Nick Marone, which resulted in a affair, and getting pregnant with his child which was miscarried. She is currently married to Bill Spencer.
She was shot by her brother, Storm, and needed a heart transplant. Storm committed suicide to give Katie his heart. After that she moved in with her niece Bridget and her spouse Nick to be taken care of there. She fell in love with Nick and shortly after having understood she was terminal (cause her body was rejecting the transplanted heart) she spent a passionate night with Nick. Soon after Bridget found a cure and Katie's life was saved.
Surprisingly she found out she was pregnant. After learning the truth Bridget left Nick, and he and Katie got engaged. Eventually Katie miscarried, and the engagement fell apart. She began then secretly dating Bill Spencer, Jr., whom she first kissed on Friday August 14, 2009. She and Bill married on November 13, 2009 at her old childhood park. Katie is formerly the CEO of Forrester Creations. She, like her sisters, is now worried about her father Stephen because of his relationship with Stephanie's sister Pamela Douglas. Katie is also stepmother to Liam Cooper, Bill's son with former model Kelly Hopkins, whom he had once dated when he was in college.
Fourth Generation
Edit
(Ryan/Nicole Miller, 1990–1991; Jeremy Snider, 1991–1995; Steven Hartman, 1995–1997; Jacob Young, 1997–1999, 2011-present; Justin Torkildsen, 1999–2006; Kyle Lowder, 2007–2011) Son of Eric Forrester and Brooke Logan. As a child he shot Grant Chambers, but repressed the memory. In his late teens to early 20s he was married to Amber Moore twice. He has also had relationships with Caitlin Ramirez and his stepfather, Ridge Forrester's daughters Phoebe and Steffy.
He was engaged to Ridge's ex-wife and Phoebe and Steffy's mother Taylor Hayes. After returning from Paris, Rick develops an antagonistic relationship with Ridge, which causes family conflicts, but is later resolved when both men agree to get along & not cause any problems for the other.
(Caitlin Wachs, 1995; Landry Allbright, 1996–1997; Agnes Bruckner, 1997–1999; Jennifer Finnigan, 1999–2004; Emily Harrison, 2004; Ashley Jones, 2004-2013)
Daughter of Eric Forrester and Brooke Logan. She works as a physician at University Hospital. She has been married to both Deacon Sharpe and Nick Marone, both of whom cheated on her with her mother. Her first pregnancy resulted in a miscarriage, her second resulted in the birth of a daughter Nicole Marone whom was stillborn, and her final attempt at motherhood via surrogate Sandy Sommers (real name: Agnes Jones) resulted in a miscarriage after Sandy fell down a flight of stairs. Bridget's marriage to Nick Marone ends after he finds out about her one-night stand with his stepfather Owen Knight. They are now divorced. Because Bridget got pregnant by Owen Knight during the one-night stand, she lived with Owen and Jackie. She went to Big Bear Cabin and Owen delivered their son Logan, born on September 3rd, 2010.
(Colby and Grayson Button, 2002-2003; Amanda and Rachel Pace, 2004–2009; Kim Matula, 2010-2016])
Daughter of Brooke Logan Forrester and Deacon Sharpe. Adoptive daughter of Ridge Forrester. Hope was the product of an affair between Brooke and her son-in-law Deacon Sharpe but her paternity was hidden because Deacon was married to Brooke's daughter Bridget at the time.
Brooke kept Deacon out of Hope's life for the most part. When Brooke became pregnant again she wanted Nick Marone to adopt Hope but when it was revealed that the father of Brooke's baby was Ridge Forrester Brooke left Nick and married Ridge. Ridge adopted Hope and she considers Ridge her father calling him Dad.
(Ridge Perkett, 2007-2009; Jack Horan, 2011; Mace Coronel, 2013-present)
Son of Ridge Forrester and Brooke Logan. He is born in July 2004. He was originally thought to be the son of Nick Marone, but a paternity test just after his birth proved Ridge was his father.
(Mallory Mae Garza, 2007; Cameron & McKenzi Carr, 2007-2009; Frank and Morgan Gingerich, 2010-2011)
Son of Nick Marone. His biological mother is Brooke Logan Forrester, but he was carried by Taylor Hayes. Brooke was coerced into signing away all rights for her son to Taylor, but Taylor, unable to bond with her son or accept that her long-time rival was his real mother, Brooke, who wanted to raise him, gave him away to be with Brooke.
(Caelan and Declan Warden, 2012; Zane Alexander Achor, 2013-present)
Son of Bill Spencer, Jr and Katie Logan.
Marcus Forrester (formerly Marcus Walton)
(Hendrix Henrie-Erhahon, Baby and Teenage Pictures,Texas Battle, 2008–2013)
Son of Donna Forrester and Justin Barber, though he was given up for adoption at birth. Recently arrived in LA after hearing about his mother's wedding in the newspaper. He has become attracted to his mother's step-granddaughter, Steffy Forrester, which resulted in a relationship that later ended when she left him for Rick Forrester. They have stayed good friends. He was recently adopted by Eric Forrester.
Fifth Generation
Edit
Eric Forrester III
Son of Rick Forrester and Amber Moore. He was born in 1999 but he died at the birth. He was named after his father and his paternal grandfather.
Nicole Marone
Stillborn daughter of Bridget Forrester and Nick Marone.
Nick Marone and Bridget Forrester's unborn child
Son of Bridget Forrester and Owen Knight. Logan was born on air September 3, 2010. He came out a one-night-stand with Bridget Forrester and her former stepfather-in-law Owen Knight. Bridget Forrester was at that moment of time married to Dominick Marone, who wanted a baby with Bridget.
Daughter of Marcus Forrester and Amber Moore. Rosie was born on air June 20, 2011.
Lizzy Forrester
Daughter of Rick Forrester and Maya Avant (biologically Nicole Avant).