Rick Forrester and Steffy Forrester
 are fictional characters and a couple from CBS's daytime soap opera,
The Bold and the Beautiful
. Rick is the son of fashion designer,
Eric Forrester
, and
Brooke Logan
. Steffy is the daughter of supercouple, designer
Ridge Forrester
, and doctor
Taylor Hayes
.
Steffy is portrayed by Jacqueline MacInnes Wood, and Rick was portrayed by Kyle Lowder.
Storylines 
Edit
Rick was originally the boyfriend of Steffy's twin sister Phoebe Forrester. Rick slept with Steffy's and Phoebe's mother Taylor, (who had a drinking problem at the time) and kissed Steffy. Phoebe found out and yelled at Rick even to and in the car and when Phoebe had her arms in the way of the steering wheel, Rick couldn't drive and crashed killing Phoebe. Steffy's and Phoebe's father Ridge Forrester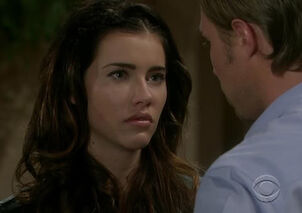 (who didn't like Rick from the start, who was in love with both Taylor and Rick's mother Brooke, causing a war) came running down sad and furious. Rick continued to pursue his relationship with Taylor but ended. Steffy hated Rick and was on to him until after mourning about Phoebe's death, grew into a relationship. The Forrester didn't support it. Steffy's grandmother, Stephanie Forrester was outraged. Rick even proposed, but was stopped by Ridge, who pushed Rick off a building but Rick survived. 
Ad blocker interference detected!
Wikia is a free-to-use site that makes money from advertising. We have a modified experience for viewers using ad blockers

Wikia is not accessible if you've made further modifications. Remove the custom ad blocker rule(s) and the page will load as expected.